HAZELNUT GROWING IN TURKEY, PROBLEMS AND SOLUTION SUGGESTIONS

Abstract views: 114 /

PDF downloads: 161
Keywords:
Hazelnut, Efficiency, Turkey
Abstract
Hazelnut ranks second after almond in terms of both production and consumption among the hard-shelled fruits in the world. Consumption of hazelnut as a snack is limited and it is one of the basic raw materials of the food industry, especially in sectors such as chocolate and confectionery. Hazelnut; It is nutrient rich in folic acid, vitamins E, K and C, minerals such as iron, zinc, copper, protein, fiber and fat. It is known that hazelnut covers the temperate climate zone of the Northern Hemisphere in the form of wild forms from Japan to China, Manchuria, Caucasus, Turkey, Europe and North America. The cultivated varieties of hazelnut are grown in Turkey, Italy, Spain, USA, Chile, China, Iran, France, Azerbaijan, Russia and Georgia. World hazelnut production has increased significantly in recent years. Turkey, which ranks first in world hazelnut production, is followed by Italy, Azerbaijan and the USA, respectively. In recent years, it has been observed that there has been an increase in the production of Azerbaijan and the USA. In this study, the problems, innovations and the importance of Turkey in the cultivation of hazelnut are mentioned.
References
Anonim. 2014. Fındık Çalıştayı Sonuç Raporu. 18-19 Aralık 2013, Trabzon.
Arıkan, F. 1960. Giresun'da Yetişen Önemli Fındık Çeşitlerinin Döllenme Biyolojisi Bakımından Hususiyetleri. Giresun Bahçe Kültürleri İstasyonu Yayınları No.: 2, 69s.
Ayfer, M. 1983. The Hazelnut Culture in Turkey: Situation, Problems and Prospects. The International Congress on Hazelnut, Avellino, Italy.
Ayfer, M. 1991. The Hazelnut Culture. The Cracker. 1: 41-43.
Balık, H.İ., Balık, S.K., Beyhan, N., Erdogan, V. 2016. Fındık Çeşitleri - Hazelnut Cultivars. Trabzon Ticaret Borsası, Klasmat Matbaacılık, 96s. Trabzon.
Balık, H.I., Balık, S.K., Köse, Ç.B., Duyar, Ö., Erdoğan, V., Kafkas, S. 2017. Tombul Fındık Klon Seleksiyonu-II. Ara Sonuç Raporu, Fındık Araştırma Enstitüsü Müdürlüğü, Giresun.
Bostan, S.Z. 1997. Türkiye Fındık Yetiştiriciliğinde Sorunlar Ve Çözüm Yolları. OÜZF Dergisi 12(2): 127-133.
Bozoglu, M. 2005. The Situation of the Hazelnut Sector in Turkey. Acta Hortic. 686: 681-648.
Çakır, B., Genç, C. 1971. Fındıkta Tozlama ve Tozlayıcı Seçim Çalışmaları. T.C. Gıda, Tarım ve Hayvancılık Bakanlığı, Tarımsal Araştırma Dergisi. 1: 125-131 ayrı basım.
Demiryürek, K., Ceyhan, V. 2009. Economics of Organic and Conventional Hazelnut Production in the Terme District of Samsun, Turkey. Acta Hortic. 845: 739-744.
Doğanay, H. 2012. Türkiye Fındık Meyveciliğindeki Yeni Gelişmeler. Doğu Coğrafya Dergisi. 17(27): 1-22.
Durukan, H.M. 1938. Fındık Ticaret ve Endüstrisine Dair Rapor ve Türkiye Fındık Ziraatının Kalkınmasına Dair Rapor. Birinci Köy ve Ziraat Kalkınma Kongresi, Ankara. B serisi, Takım 8.
Erdogan, V., Koksal, A.I., Aygun A. 2010. Assessment of Genetic Relationships Among Turkish Hazelnut (Corylus avellana L.) Cultivars by RAPD Markers. Rom. Biotech. Let.15(5): 5591-5601.
Erdogan, V., Aygun, A. 2017. Late Spring Frosts and its Impact on Turkish Hazelnut Production and Trade. NUCIS. 17: 25-27.
FAO. 2016. Fao. www.fao.org. Erişim tarihi 5.9.2018.
İslam, A. 2003. Clonal Selection in 'Uzunmusa' Hazelnut. Plant Breeding. 122(4): 368-371.
Karadeniz, T., Bostan, S.Z., Tuncer, C., Tarakçıoğlu, C. 2009. Fındık Yetiştiriciliği. Ordu Ziraat Odası Başkanlığı Bilimsel Yayınlar Seri No.: 1, 154s.
Kaynar, İ.S. 2012. 19. yy'in İkinci Yarısından Cumhuriyet'e Fındığın Ekonomik ve Sosyal Tarihi (Orta Karadeniz Bölgesi). Marmara Üniversitesi Sosyal Bilimler Enstitüsü. Yüksek Lisans Tezi.
Kayalak, S., Özçelik, A. 2012. Türkiye'de ve Dünyada Fındık Politikaları. Tarım Ekonomisi Dergisi. 18(2): 43-53.
Mehlenbacher, S.A. 1994. Hazelnut Production, Processing and Research in Turkey. 79th Annual Meeting of Nut Growers Society of Oregon, Washington and British Columbia. Proceedings and Membership Roster, p.49-78.
Sezer, A., Dolar, F.S., Lucas, S.J., Köse, Ç., Gümüş, E. 2017. First Report of the Recently İntroduced, Destructive Powdery Mildew Erysiphe corylacearum on Hazelnut in Turkey. Phytoparasitica, https://doi. org/10.1007/s12600-017-0610-1.
TÜİK. 2017. http://www.turkstat.gov.tr. Erişim tarihi 5.8.2018.
Uzundumlu, A.S., Kılıç, B., Tozlu, G. 2017. Fındık Üretiminde Kimyasal İlaç Kullanımını Etkileyen Faktörlerin Analizi: Giresun İli Örneği. GÜFBED, 7(1): 1-9.
Yakut, Y. 1996. Doğu Karadeniz Bölgesinde Fındık Yetiştiriciliği. Doğu Karadeniz Bölgesi'nin Zirai Potansiyeli ve Gelişme İmkânları Paneli, 10 Ocak 1996, Ordu.
Erdoğan V. 2018. FINDIK: Yetiştiricilik, Sorunlar, Neriler Ve Yenilikler, TÜRKTOB Dergisi 2018 Sayı: 27 Sayfa: 4-10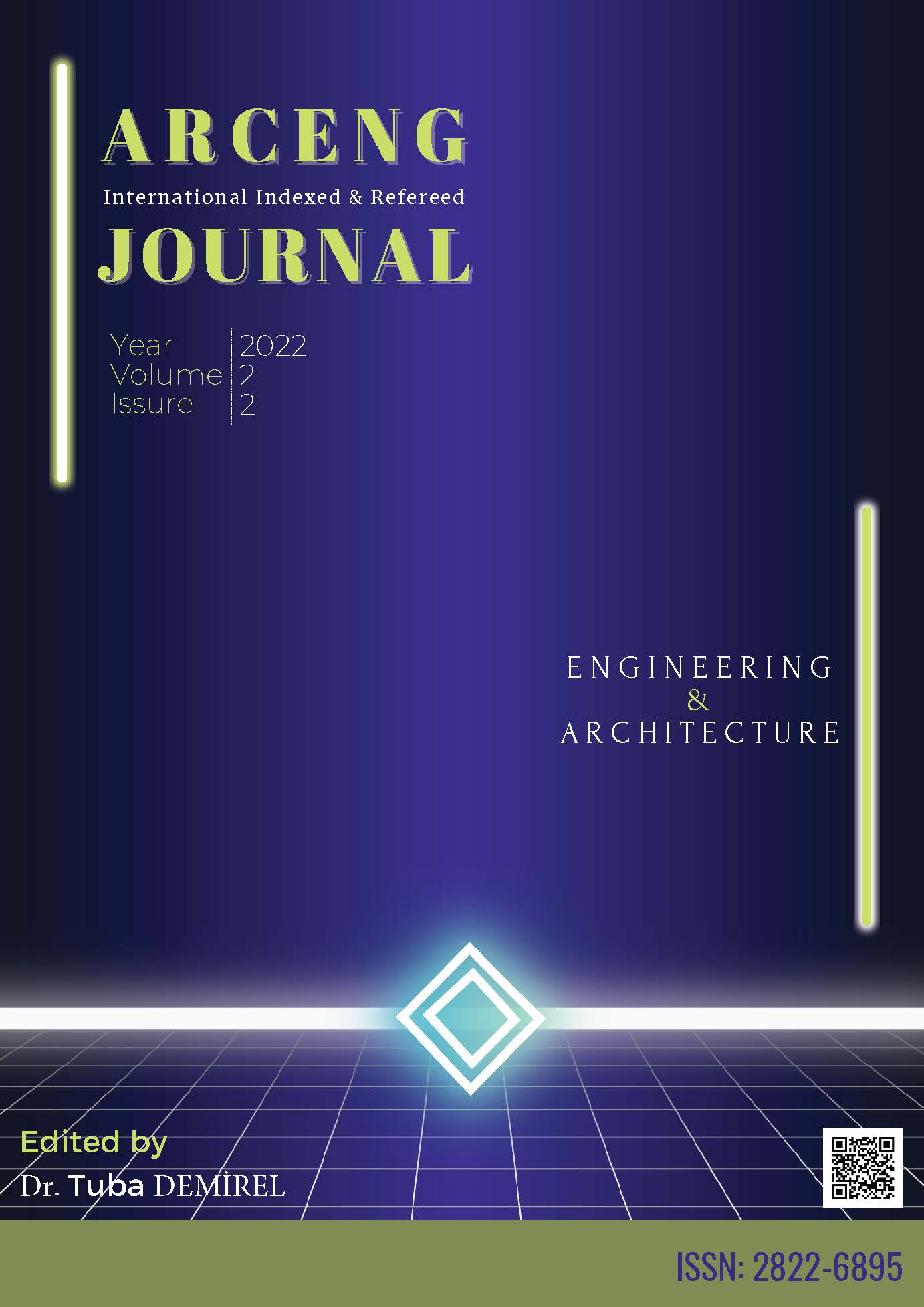 Downloads
How to Cite
BİÇER, A. (2022). HAZELNUT GROWING IN TURKEY, PROBLEMS AND SOLUTION SUGGESTIONS. ARCENG (INTERNATIONAL JOURNAL OF ARCHITECTURE AND ENGINEERING) ISSN: 2822-6895, 2(2), 1–9. https://doi.org/10.5281/zenodo.7740871
License
Copyright (c) 2022 ARCENG (INTERNATIONAL JOURNAL OF ARCHITECTURE AND ENGINEERING) ISSN: 2822-6895
This work is licensed under a Creative Commons Attribution-NonCommercial 4.0 International License.